In this day and age most of us have access to high speed internet even when we are on the move. Wireless phone service providers have all pretty much switched to 4G LTE technology and offer high performance access and excellent coverage (except in some rural areas unfortunately).
But, high speed wireless internet comes at a steep price, especially if you are a relatively "light" user. Indeed, the monthly plans actually cost far more than their face value as their stated price is optimum for the monthly data allotment, not a bit more, not a bit less. If you use less than what is assigned to you for the month, you lose the balance (in most cases). If you use more than your monthly allocation then you get hit with "list" priced extra charges (again, in most cases).
Until now we did not have a "Pay As You Go" high speed internet offering that didn't hit the customer with frivolous monthly maintenance fees, random data expiration dates, etc. That is, until Karma Mobility, Inc. a recent start up based in New York, stepped into the marketplace.
Using Sprint Wireless' 4G LTE network, Karma Mobility (yourkarma.com) offers Pay As You Go service with no expiration, no monthly fees.
I have been using Karma's service for a few months now and I have to say I am impressed by the product. Sprint's 4G LTE network was recently beefed up as their WiMax network was converted to 4G LTE.
As I am a relatively light user when I am on the go, what I get from Karma + Sprint in terms of benefit vs cost is at a sweet spot, actually never matched by any major wireless company or their MVNOs previously.
Karma's access device is a bit expensive, $149 which can be discounted to $139 if you use this invitation. (Note: as you use this link, my account also gets credited by the same discount amount, which is $10)
Karma's coverage through Sprint's 4G LTE is quite good. You can see for yourself here.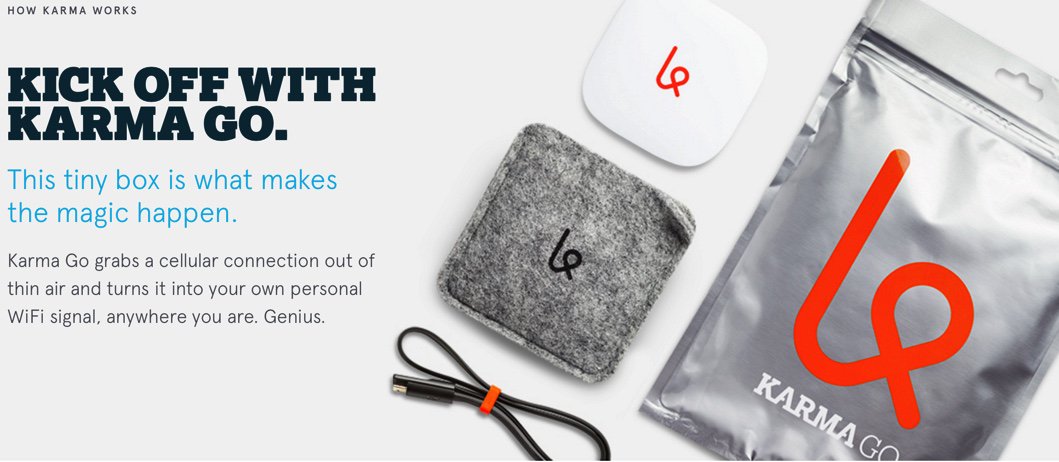 PS: More recently, Karma has launched a $50/month, "All You Can Use" monthly subscription type plan, which within a month was amended with high speed use limits (apparently as a result of user abuse on the part of some subscribers who streamed video all day long, consuming tons of gigabytes). The CEO of Karma has explained what happened in his own words here.
Neither the incident nor Karma's reaction surprised us, except how quickly the story happened.
As a result Karma Mobility's image has suffered. Indeed, some people started to float the idea that Karma is a "bait and switch" type vendor. As far as our impression goes, we want to believe that it was only a snafu and not an intentional, certainly not a bait and switch scheme. Nevertheless, we are now a bit worried and annoyed by the fact that Karma Mobility might be accentuating its focus on the traditional monthly subscription model as opposed to Pay As You Go. On a personal basis I believe that Karma's decision to cover both grounds simultaneously has spoiled the bright shine that their "common sense product for common sense people" attitude had projected initially.
You may be interested in our impressions of Karma after six months of use; read it here.
© Copyright 1991-2019 - cilicia.us & The Cilician Gazette - All rights reserved